There are times in life when things just feel right. When you know you are where you are supposed to be.
And as soon as I pulled up to the site of World's Toughest Mudder 2014 in Lake Las Vegas last Friday, I knew it was one of those times.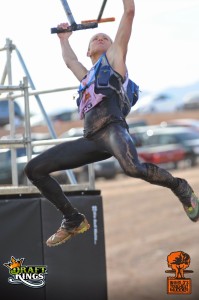 Hugging old friends, meeting new ones, we all anxiously set up our pits areas, commenting on how the Vegas desert was the FURTHEST thing from Raceway Park in Jersey that we had all grown accustomed to over the past few years. Excitement ran high. We were ready to begin.
But 8 weeks ago, I didn't think I would be there in Vegas, preparing to race. 8 weeks ago, I was mourning the loss of running the Spartan World Championship, and undergoing surgery on a bum knee. I had mentioned to my surgeon that I would love to make it back in time for a "24 hour race," and he rolled his eyes.
See, when the surgeon told me "return to sport" in 8 weeks, he meant "go play a basketball game," not "run around in circles in the desert for 24 hours." Sorry doc – can't help the sport I chose, and technically, you didn't qualify your statement. With that in mind, however, I came in cautious, mentally prepping myself for the fact that I might have to pull the plug. That the moment the knee started hurting, I needed to call it. I questioned how much conditioning and endurance I had lost being laid up for a good portion of those 8 weeks. I doubted whether my ego could take that (as I'm sure the others did around me). But regardless of how far I could make it, I knew I needed to be at WTM. Having missed last year with injury, the thought of missing another gutted me more than I could ever imagine.
But come WTM morning, it was all smiles and laughs. Surgeries, injuries, and disappointments were far from my mind as we started out. I try and learn something from every race, and over those next 24 hours, a few things became clear to me: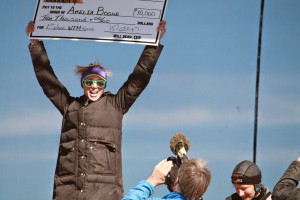 Prepare for everything. Yeah, you all laugh at me wearing a full-length down coat on the podium in Las Vegas. But I know you are all secretly really jealous. In fact, by the end of the race, I ended up in the same amount of neoprene as I wore in Jersey in 2012 – a 3/2 full, a 3mm hood, and a 3mm farmer john with a Gore-Tex windbreaker on top. Who would have thought Vegas could end up colder than Jersey? But all you can do is adapt – adapt and overcome (and yes, being an overpacker can totally come in handy sometimes…)
Nothing goes according to plan. Ever. 25 miles in, I felt fantastic. Every 5 mile lap I'd come in, hug Sean Corvelle, and smile and laugh and think about how lucky I was to be doing this, here with 1200 other crazy folks. At about 9pm, I hit 45 miles, still feeling great, thinking maybe I could hit 90 miles when this was all said and done.
But then the freak sandstorm hit. Paces slowed everywhere. And the one part of my body that had NEVER given me trouble before – my left hip flexor and groin – began to stiffen. Pace slowed further. Hills, usually my best friend, became my worst enemy. At 6am, I hit 70 miles, limping and walking (I will note, however, that the KNEE felt fantastic. Hip flexor…probably compensatory). At that point, it was decision time. Allison Tai, the second-place female (and all around awesome woman), was 10 miles behind and moving at a pace where she could maybe…MAYBE…hit 70 by 10am. So I waited around for 2 hours, then, with the motivation and encouragement of a fantastic crew of people, I hobbled off for a final lap, just to make sure and seal the win. It was the longest, slowest, and most painful 5 miles of my life, while I dragged along a left leg that refused to lift (have you ever tried to lift your leg and have it fail to move? It's kinda weird).
So…maybe running for 24 hours 8 weeks post-op isn't ENTIRELY wise, as the left leg strength wasn't completely there yet. I sit here trying to not be a *teensy* disappointed with "only" going 75 miles, after having done 90 miles two years ago. But I also sit here, thankful and grateful that I was even able to attempt this, let alone come away (mostly) unscathed (just walking like John Wayne for a few weeks…)
You are, truly, never alone. I came to WTM without a pit crew, as usual. I'm a pretty self-sufficient racer, and I hate asking people to help me. But, in the wee hours of the morning, it's sure nice to have someone to lean on. And Mudders everywhere jumped in. Phoebe Brimer and the "orphan pit crew" area that let me set up near them. Ken Jacobus who cleaned out the forty zillion pebbles that had gotten lodged in my shoes. The awesome "FREE HUGS" volunteer who hugged me every single lap during the relentless sandstorm. Amie and Caelin who helped me strategize the last lap. Matty Gregg who sacrificed his finishing time and placement to get me through that last lap. And to Maria – Mother Hen herself, who not only clothed me as I sat shaking uncontrollably in the med tent at the finish but also packed up all my gear and made sure I got a ride to my car (AND she brought me ketchup chips).
Little acts of kindness in a race never go unnoticed. To every racer out there, who offered a helping hand, I appreciate you. In this sport, we all do. YOU are what make this such a special event and even greater community.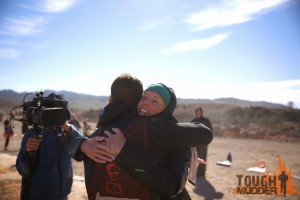 Embrace the absurdity. There is going to come a "what in the effin world…" point during this race. In fact, there will probably be multiple of then. Like…being fed cake and pie while sitting in a shower. Or talking with Matty Gregg about how "Anthem" is the greatest song from a musical as he literally willed me to finish the last lap (listen to the version below and just TRY to not get the chills). When you are wearing motorcycle goggles, a buff, and 5+mm of neoprene covered by a Gore-Tex jacket and jumping off a 38′ foot cliff…I mean…what's NOT hilarious about that? And the only way you can prevent yourself from mentally breaking down, the only way to survive running around in circles, is to keep your humor. Keep your smile. Remember why you are out there.
(Chess: the storyline and musical kinda blows, this song is the greatest thing ever. Skip to 2:20 if you can only bear a little bit of Broadway brilliance)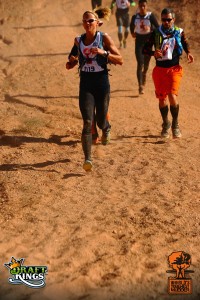 If it's not fun, then why are you doing it? 2014 has been a struggle for me – a series of highs and lows, battling injury and fatigue along the way. Between sponsorships, contracts, TV cameras, and growing egos in the OCR world, I lost my way. I lost the joy that I found 3 years ago – when I was just a girl running around in the mud, doing stupid things, escaping the crazy desk job, and having the time of my life. Before prize money, before TV cameras, back when everyone out there was just a glorified weekend warrior. For the first time in a long time, I felt at peace out there in the desert. When I rolled in after a few laps, I had no idea I was in the lead. Frankly, I didn't care. The only thing that mattered to me was that I was absolutely enjoying every minute of it, even when I was freezing, and in pain. And it was a joy that stayed with me all 24 hours, through sandstorms, bruised tailbones, and frostnipped fingers.
So thank you, World's Toughest Mudder. And thank you, fellow racers.
For the first time in a long time, I'm at peace. I'm happy.
I think I'm home.